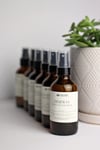 Perfect for everything from freshening up those sheets and pillowcases, to adding a sweet scent to the room before guests arrive, these Linen and Room Sprays are a must in every home.
Packaged in a 4oz/118ml glass bottle
Fragrances:
-Amber & Saffron-Spicy saffron and warm jasmine under a breeze of Australian cedar and amber.
-Aloe & Clover-A luxurious blend of dewy green clover leaf, green daisy, and natural woods complimented by refreshing aloe leaf and lemon verbena; iconically piped throughout magical resorts in Lake Buena Vista.
-Clean Cotton-The perfect aroma of crisp, freshly washed linens.
-Lemongrass- The classic bright, fresh citrusy scent
-Obsidian-A deep, masculine fragrance aroma of bright citrus, sweet jasmine and woodsy musk. Inspired by the famous "Little Tree" Black Ice.
-Ocean Breeze-The scent of salty sea air anchored with a bright burst of citrus, soft lily of the valley, and glowing notes of amber.
-Serenity-The serene aroma of English lavender nestled among white musk and night blooming moonflowers.
-Smoked Cedar & Leather-Cedar wood smoke, and sweet cardamom and cinnamon bring the warmth alongside notes of white leather and cinnamon
-White Tea & Thyme-White tea with herbaceous notes of thyme and coriander, perfectly balanced with light floral notes.
-Woodlands-Clean, crisp pine, with a background of sandalwood, vanilla and slight hints of raspberry.